In the past, I've written about some of my favorite food fads, but this post is about more than just one product, nay, it is about a line of food products I would push to become more popular. Some Most people would find it pretty odd that a friend and I are venturing into a category of food products that are mainly produced for a certain age group of people, and trying to incorporate them into a wider audience. But I like to think that food can be more experimental and adaptable than some people think. This type of food is nutritious, inexpensive, and accessible. I am referring of course, to Baby Food.
Now, don't start thinking I'm crazy. Hear me out. Baby food should be brought to the masses. Baby food should be acceptable for anyone to eat. And why not? It comes in easy, small servings, where your entire meal is ready in a compact container. Take the "baby food meal deals," for example:
Will you take a look at that! It's a whole dinner complete with turkey and vegetables. You just stick the microwave-safe jar in the microwave for a few minutes, and your turkey dinner is ready. It doesn't get much easier than that. And for those of you who may be complaining that you prefer to have your food not touching, or looking like what it's supposed to be, or with its individual textures, then I think you must be forgetting that all your food just becomes mush in your stomach anyways, so in fact, you're doing your body a favor. With baby food, you're saving your body the work and energy involved in breaking down all that food. Besides, it's harder to choke on mashed up food, so this is a safer food choice as well. For those of you who argue that baby food can hardly taste any good, I can reassure you it does.
I wouldn't write an article without doing my fair share of research about the topic. And yes, I have recently partaken in the eating of baby food. I can for a fact say that the food that I ate tasted good, in fact. While due to my vegetarianism, I did not try the above, Vegetable Turkey Dinner, I did enjoy a small bottle of sweet potatoes and sampled the pears. The other advantage to baby food, is that you needn't feel limited by the options available. Take these appetizing choices available: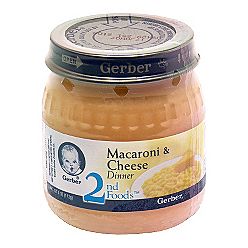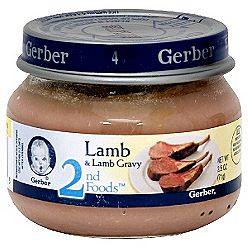 And those are just the bottled foods. Believe me when I tell you that there are more than just mush-based baby foods. In fact, the baby food aisle holds food even especially made for toddlers, which are just as tasty. My friend and I enjoyed eating these such cookies and snack foods: arrowroot cookies, lil' biscuits (my personal favorite), and lil' crunchies (basically healthier cheese puffs) in two flavors. Next up on my list of baby foods to try are these and these (especially). The Nutrition Facts for these foods are appealing too, because you know only the healthiest food would be given to babies and toddlers. This means you know you are making a healthy choice when you enjoy these foods.
I believe that baby food will reach more mouths than just children's. This readily-available food will become popular with older people, seeking a healthy alternative, with the added bonus of being extremely easy to prepare, as well as taking on the go! It's a meal in a jar, which actually very much reminds me of that gum that Willy Wonka invented to simulate and taste like an entire meal. Obviously, the Gerber company is a genius of making the food of the future, and people just haven't caught on yet.
Although obviously, baby food doesn't have the same "blueberry pie incident" as happened with Willy Wonka's creation, so as you can see, you get the best of both worlds. A definite win in the food industry of the future, I say!